Mondulkiri - Here Come The Elephants!
25th to 30th November 2016
Anyone who has come into contact with us in the past 6 months will not have escaped without a mention of "the elephants". We have been very excited about our visit to the Mondulkiri Project, a sanctuary for elephants, nestled in the Cambodian jungle.
Well, it happened this week. We got to hang out with some truly gorgeous elephants, and it was every bit as fantastic as we imagined.
Heading for the Hills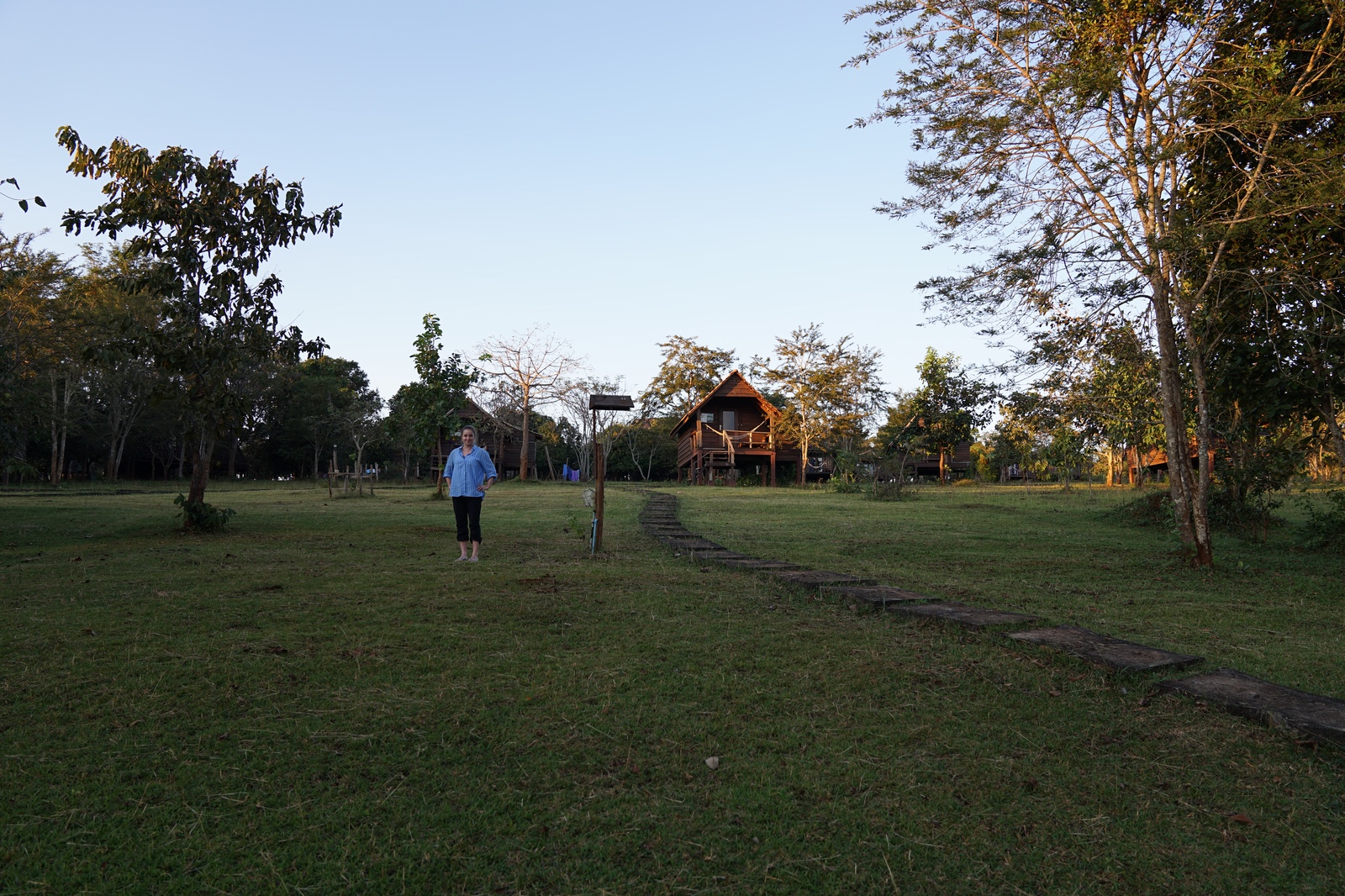 We travelled from Phnom Penh to the town of Sen Monromon in the region of Mondulkiri. This part of Cambodia's countryside is defined by blue skies, red clay, and lush tropical greenery in between. It's in the hills, so mercifully a little cooler and even prone to occasional breezes.
After getting caught in the crossfire of a local turf war about tourism, we got settled at our lodge, happy to have the fun company of Vicky and Aris, who were also heading for the elephants the next day.
Mr Tree and his Pickup Truck
We met our guide, Mr Tree bright and early in town the next morning.
He was full of enthusiasm, and piled us all into his pickup truck, with many of us hanging on for dear life at the back as he shuttled along the road and off-road.
20 windswept minutes later, we arrived at our starting point in the jungle. Mr Tree sat us all down, cross-legged on the floor around him like children hearing a story at bedtime. He began to tell us about the project, why it was set up, how it works, and what they hope to achieve.
Doing Good and Hoping for More
Today, there are only 48 elephants in the Mondulkiri province. This number is seriously depleted from what it once was. As in other areas in which the Asian elephant resides, these lovely animals are now endangered in Mondulkiri. Many of the remaining elephants have tough lives, working in cruel or unkind conditions.
The Mondulkiri Project has bought and rescued 4 elephants to date, bringing them to the sanctuary where they can roam around freely and safely.
The project works with the local Bunong Tribe, helping them to learn English and become guides, so that they can fully take over and run the project in time.
Profits from the price we pay for this tour go towards maintaining the sanctuary and contributing to the development of the Bunong tribe's village through education, building, and trade. Mondulkiri Project also hope to buy more elephants in the future, and to begin a breeding programme here.
Great, but gimme elephants please!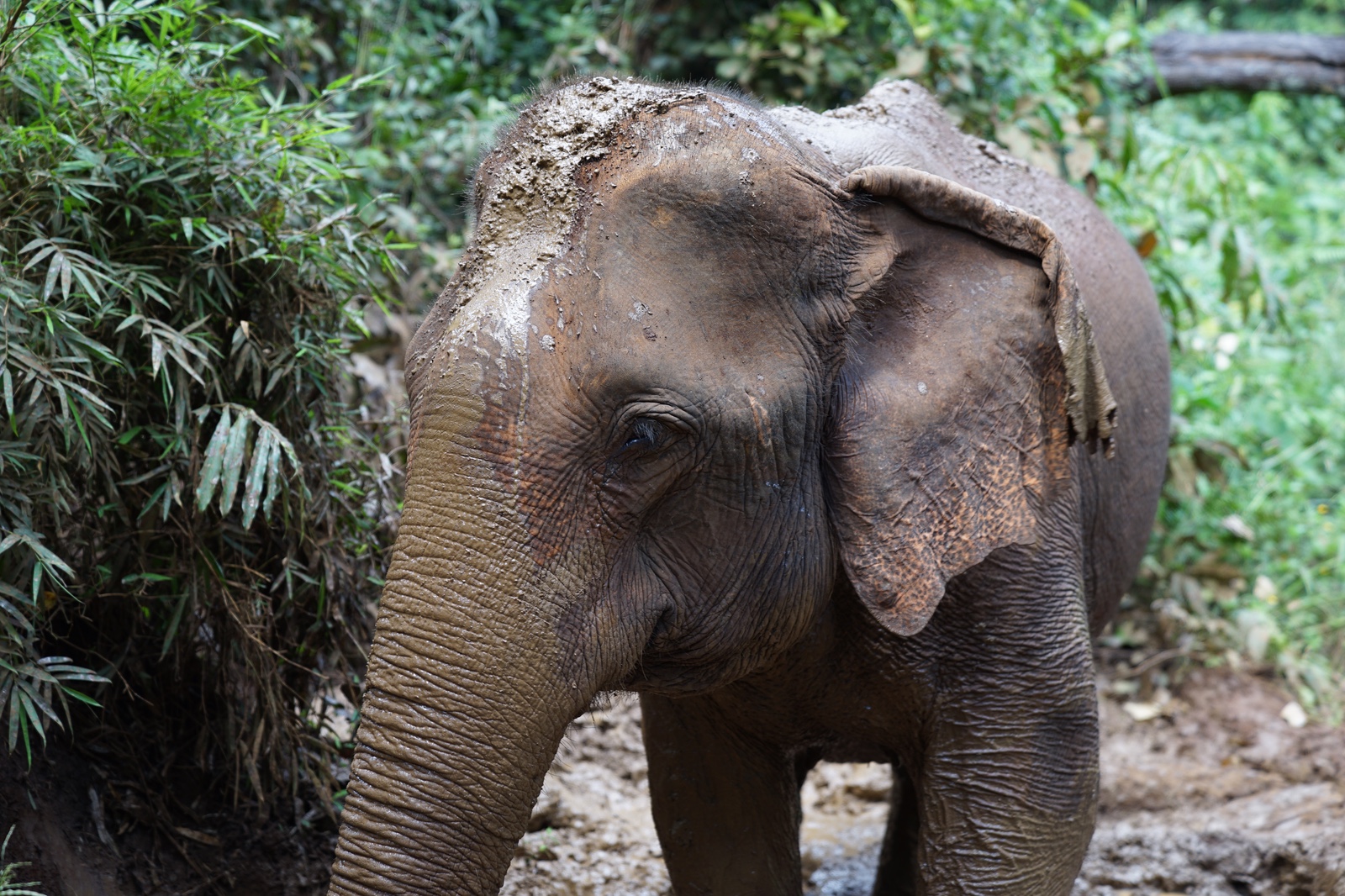 It was reassuring to learn all of this, but we were anxious to meet these 4 famous elephants!
Sensing this, Mr Tree took our small group down into the jungle armed with several bunches of bananas each.
And here they were! These clever girls (Cambine, Princess, Lucky, and Sophie) know that their adoring visitors arrive at the same time every day, ready to lavish them with attention and, more importantly, bananas.
Sophie wins us over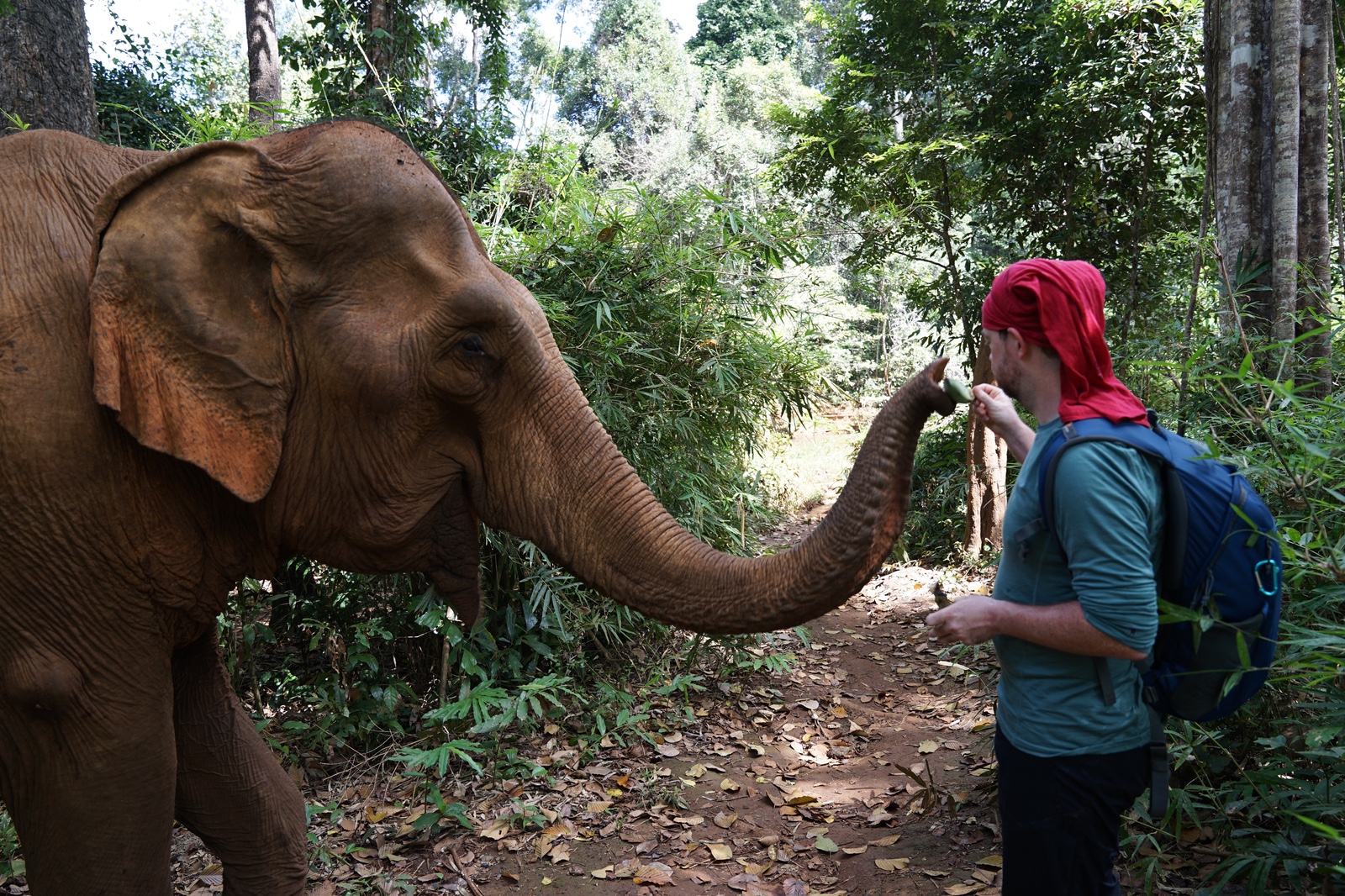 Standing close to these happy elephants is surreal. They are so endearing - even the hardest of hearts would warm to them, gentle and beautiful as they are.
Our group of 8 split into smaller groups to make sure each elephant got her fair share of banana goodness. Nick, Aris and I headed off after shy Sophie who prefers to stay a little independent of the other elephants.
She wasn't so shy when she had a smaller audience, bobbing her head between each of us, and happily munching every single banana we had!
It's hard to scrub an elephant's back
After lunch, we pottered back to the jungle. Every afternoon, the elephants take a bath in the river to keep their skin clean and healthy.
The 2 younger elephants, Cambine and Princess are happy to be washed and scrubbed by us in the river, while Lucky and Sophie prefer to soak in their baths alone. I get it, girls. Don't forget your glass of wine!
Under the Stars (and mosquito nets)
Our cheery group stayed at a lodge in the jungle that night, playing cards, sampling bamboo soup, and trying a sip or two of rice wine.
Halfway through the evening, Esther noticed the stars. We all stood with upturned heads and wide-open eyes for quite some time - who knew so many stars were out there, just waiting for us to see them?
When it came time to hop into our hammocks, we were incredibly grateful that they were sturdy army issue, with zip-up mosquito nets. Stars are great, mozzies and spiders not so much!
Trekking Again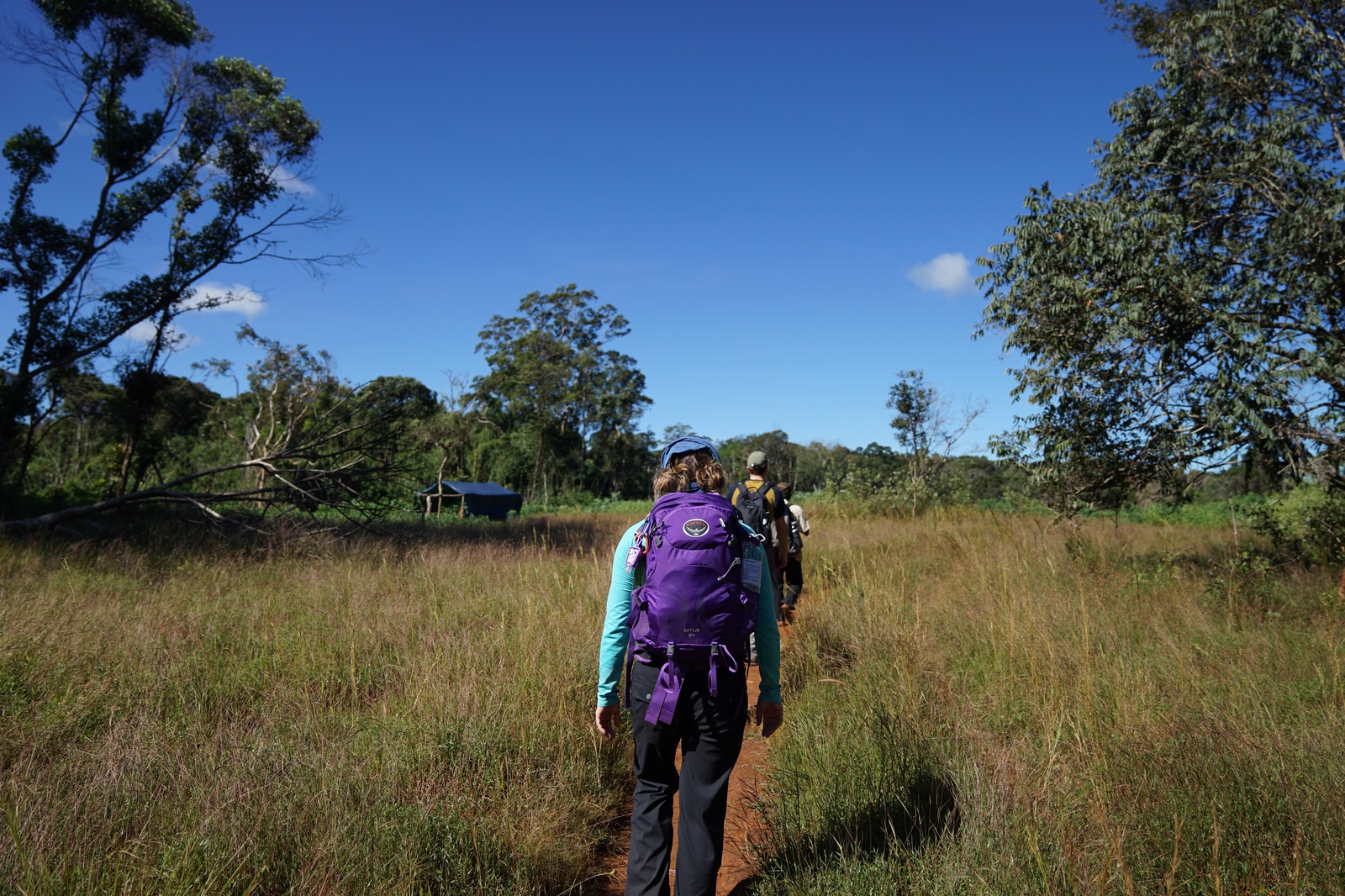 The second day of our tour was an 18 kilometre trek through the jungle. It had been about 6 weeks since our last trek, and I was hoping my walking feet were still good to go. Luckily, thanks to our Nepal training, I was up to the challenge.
We roamed though the jungle, stopping at waterfalls, to watch our guide cut some bamboo, and for much needed water breaks!
Mid-afternoon, we arrived at the Bunong village. I liked it immediately. You could tell that every home and garden here was lovingly cared for. Piglets and hens with tiny chicks wandered around freely. Our guide brought us to his garden, where he was growing pineapples in the back garden.
Mondulkiri - do or don't?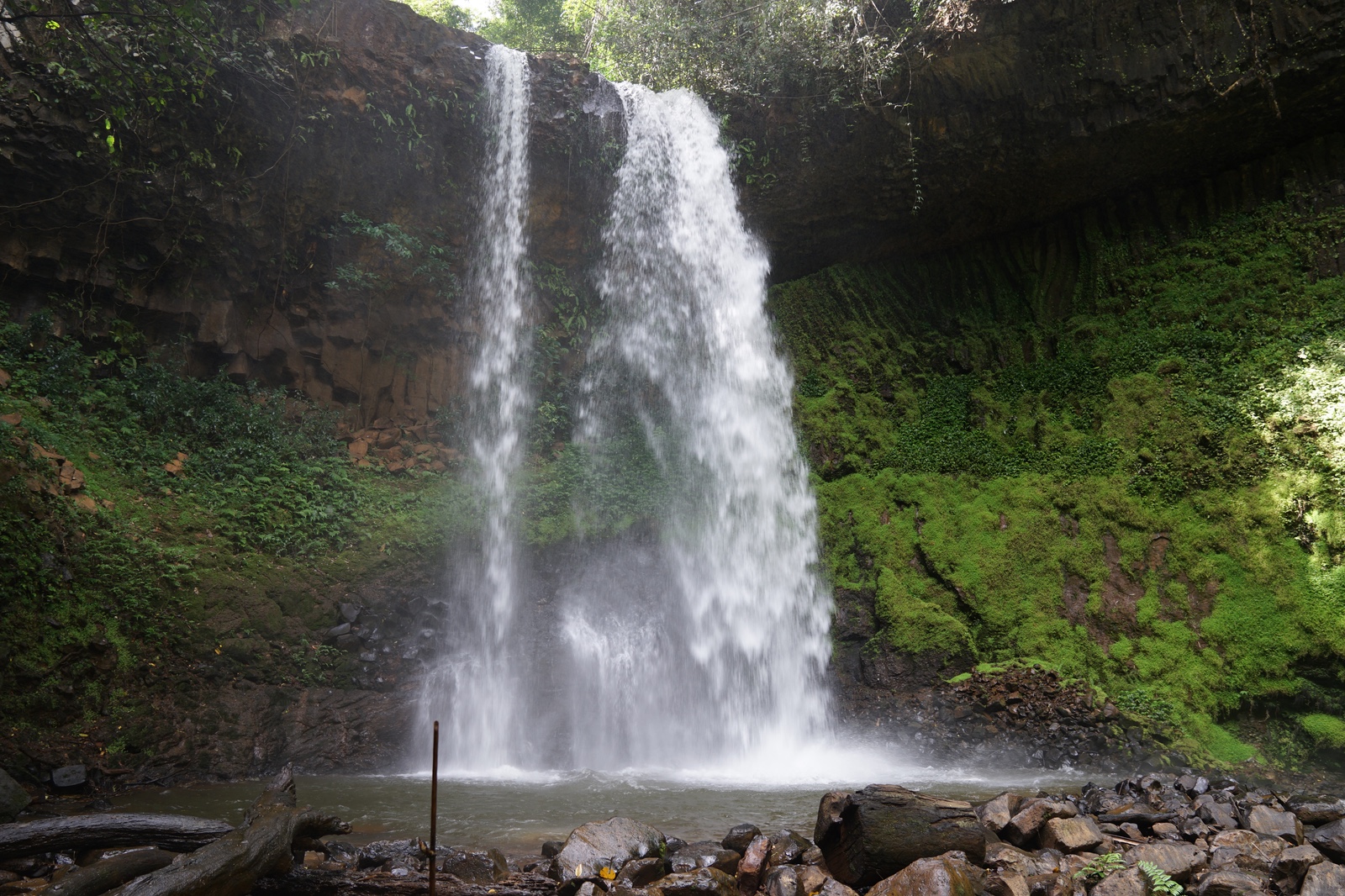 Mondulkiri Project was one of the highlights of our trip so far. The elephants were every bit as wonderful as we had hoped, and seeing them happy, wandering freely about definitely gave us the warm and fuzzies.
We met some brilliant people like Aris, Vicky, Nicola, and Stephen at Mondulkiri, and had lots of laughs with them all.
Also, this particular part of the countryside is stunning, with the most vibrant colours you could imagine.
The local tourist turf war did put a bit of a dampener on the trip at times, but I wouldn't let that stop you if you're thinking about going to Mondulkiri. I would just advise picking your elephant tour and accommodation with care. We're happy to pass on what we learned to anyone heading that way :)
So yes, Mondulkiri was a definite "do" for us. On our last morning, we boarded the bus back to Phnom Penh, much happier for our elephant adventure.
Mondulkiri Snapshots
Being woken at night by the sound of cows munching grass and snuffling under our hut.
The crazy whine of cicadas intermittently throughout the day, and that beautiful moment where they sound more like an orchestra tuning up than a siren wail.
The dogs at Nature Lodge stealing our shoes while we had dinner. Apparently not an uncommon occurrence!
The stars. Every time you turned your head upwards at night, it was the kind of starry sky you imagine when you picture the sky as a kid.
Going "off-road" with Mr Tree... 6 of us clinging on desperately in the back of the pick-up, while Mr Tree chatted casually to the others inside :)
The tiny, cheeky puppy picking a fight with a leaf at our lodge in the elephant sanctuary.
Learning new card games - "asshole" from our Swiss friends, and a mysterious Cambodian card game from our guide.
Operation Spider... just before climbing into our hammocks we spotted a giant spider, and every member of the group got involved in the plan to get rid of it.
The giant climb uphill at the end of our jungle trek.
People in the paddy fields waving and smiling at us red-faced, sweaty hikers as we passed.
How good a cold beer tasted after that uphill hike!
Gorgeous cinnamon and carrot cakes at Cafe Phka (aka Cinnamon Cafe).
Beers and laughs with Nicola, Stephen, and their guides on our last nights.