The Killing Fields: Raw, Respectful, Important, and Not for Everyone
23rd to 24th November 2016
Today, on Thanksgiving, we visited the Killing Fields.
I have been quietly anxious about our time in Phnom Penh for a while, as visiting here comes hand in hand with learning about the horrors of the Khmer Rouge regime. Neither Nick nor I were looking forward to today's visit, or yesterday's trip to Tuol Sleng prison.
So why do it?
We left both places feeling sad and in need of quiet time to process what we had just seen. Why would anyone choose to go to these places?
I wasn't sure of the answer before we visited. I had an underlying knowledge that it was important for us to do this, but was finding it hard to put into words.
As I walked around the prison yesterday, and the fields today, the audio guide helped me to fill in the words that were missing.
The audio guide explained that these sites have been preserved as a reminder, in the hopes that something like this will never occur again. The words "when you leave here today, you too become a keeper of this knowledge" brought things into focus.
Bearing Witness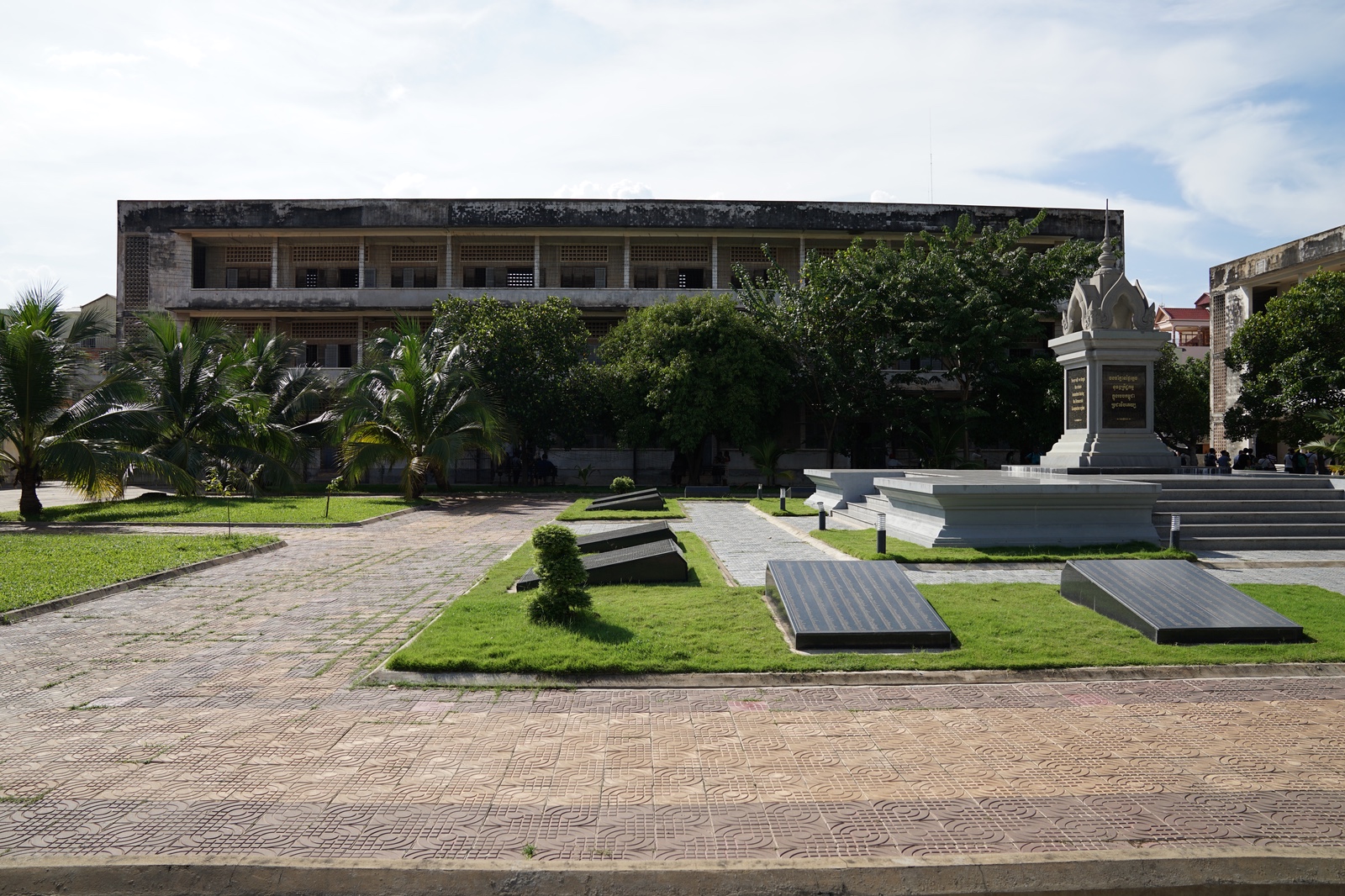 Cambodia is not flinching from what happened. They are owning their pain, in order to teach and perhaps, in order to heal and move on.
Whenever you see reference to Khmer Rouge ruling period, it is written precisely, noting the number of years, months, and days (3 years, 8 months, 20 days).
At Tuol Sleng and the Killing Fields, they have documented and presented what happened in painful detail. This detail is balanced with a deep respect for those who suffered and died.
There is a real sense of honouring these people. Their stories are woven into the audio guide commentary, some with tragic outcomes, some with messages of healing, many telling of kindnesses and love in the midst of the horror.
At the end of both visits, you can pay your respects at monuments. It brings a tiny sense of closure, to take a moment to say a prayer for their peaceful rest.
Why it's OK if you don't go...
Having said all of this, I think it's important to stress that these are disturbing visits, and if you're visiting Phnom Penh you really shouldn't feel under pressure to go to either site. I almost didn't do it myself, and had to step away from some things I saw at the prison and the fields.
If you feel it will affect you too much, do not attach any guilt to crossing these stops off your list.
You can support Cambodia's healing and growth by donating to a legitimate charity (check out ConCERT for a good list of genuine charities), supporting cafes and restaurants doing great things (Daughters of Cambodia, Friends the Restaurant, and The Connecting Hands are a few great examples in Phnom Penh), or simply just visiting and putting your tourism to good use with the many other great things to do here.
After the Fields...
So how do I feel now, back safely in my hostel, sipping on mint tea? I feel sad that this happened. It's a simple word, but a deep feeling; I don't think there's any need to dress it up.
I am sad for the people who were hurt, the people who died, and those left behind trying to heal.
In-keeping with today's festive namesake, I am also thankful. Thankful that Cambodia is on an upward curve. Thankful that we passed smiling kids who waved and called "hello" to us on their way to school today. Thankful that I am free and safe today, as are the people I love. Thankful that, although we see recurrences of violence like this throughout history, they are always overcome and outlived by our instinct to heal, thrive, and love again.